It's Sunday, June 4th in Belmont Long Island, and I'm standing on a stretch of pavement wedged between the arena where the New York Islanders play and a race track. There's an old bromide that goes: "It always rains at Summer Jam," and even though rain isn't in the forecast, the mostly clear sky has clouded over, threatening to open at any moment. Scarlip, a human dragon cast in the same model as her local aggro heroes DMX and Onyx, is shouting "This is New York" at the crowd. It's an anthem laden with sneer and side-eye, one that celebrates a vision of the bad old "Ford to New York" many believe no longer exists in Eric Adams' gentrified, vegan police state. Scarlip is flexing at the crowd, swinging at the air to accentuate each punchline, making a compelling case that they're wrong.
The outdoor stage is a pre-show for up and coming artists that has historically served as a kind of on-deck circle for talent at the station. It's a showcase hosted by Warner Records, and at one point institutional DJ/personality Funkmaster Flex comes out in a Colin Kaepernick jersey and proclaims, "Warner is only signing New York artists! If you born and raised in New York, make some noise!" The crowd cheers, dutifully engaging in the fan service. It's a motley and tentative crew in gray daylight, the rare audience of New Yorkers who have shown up wildly early for anything, a mix of salt and pepper bearded veterans of the event, and families closer to Long Island than the city, attending their first Summer Jam. They line up at a concession stand fashioned to appear as a Smirnoff sponsored bodega, selling rice and chicken empanadas amongst its standard greasy festival fare.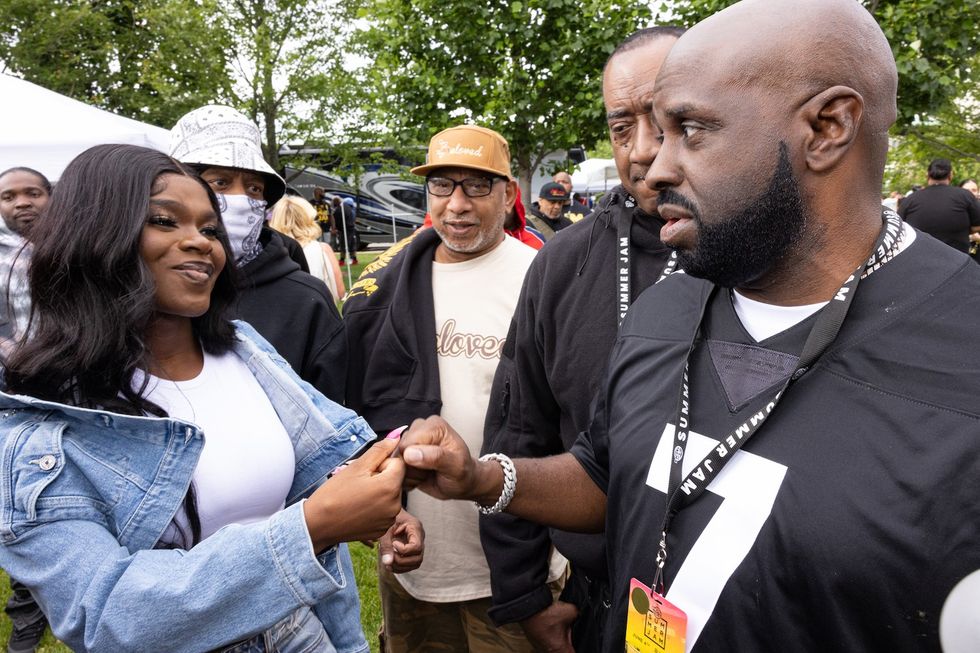 Photo Credit: Hot 97
Flex's statement is a kind of theme for the day and the event, Summer Jam's highly touted return to its station's native state, if not city. The lineup, both for this warm up and the evening's entertainment, is larded — nearly exclusively — with New York City products. The story of how Flex, and WQHT, and Summer Jam came to reclaim New York is a journey that says much about the state of Hot 97 — New York's, and at one time rap's, flagship station — and its flagship event.
The mom and pop radio station tries to survive
Photo Credit: Hot 97
Twenty Twenty-Three finds Summer Jam in a difficult spot. It could be viewed as an imperiled institution: A radio station festival at the end of radio. It was, and is, a throwback to the barnstorming concerts of the '50s and '60s, a star-studded collection of pop stars who get on stage for a tight, polished set before moving off with ruthless efficiency. But it was for rap — the only show in town for rap at the time — which made it special and unique.
But now there is fierce competition for talent. As TT Torrez, the on air personality who is also Music Director for Hot 97, and the Vice President of Artist and Media Relations for Hot 97, and the booker for Summer Jam tells me, "There are so many festivals that come into the market that we got to compete with. Remember, we're a true mom and pop radio station, but we're up against Rolling Loud and these events with a budget that we don't have."
For a time in the late aughts and 2010s, as New York fully lost its grip on ideas and the market in rap on a national stage, Hot 97 moved away from its native artists. As it always has, it followed the streets in the city, which was listening to rappers from Atlanta, Miami, Houston, and New Orleans. In doing this, it began relying on talent it didn't have the same level of intimate history with, and as radio lost its primacy in the New York market, and the live Summer slate began to diversify, Summer Jam lost its clout in attracting must see talent.
I'm speaking to Funkmaster Flex via Zoom from the back of his car, who responds to the criticism that he had moved away from platforming local artists, "They were right. And I believe that I was a big part of the problem because I think I let the streaming service dictate my mindset, and I made a decision two or three years ago: I don't give a shit about streaming services," Flex said. "Swizz Beats told me, don't worry about the algorithm. Go back to playing what you like to play and worry about it later. And at first the ratings were low, and then the ratings blew up for me." Of how this happened, why he decided to invest in drill and the current youth movement, Flex continues, "They're finding their way. I don't think there's another city right now steadily pumping out stars like we are."
The station appears eager to correct this criticism and show its contrition through branding. A big part of the marketing for this year's Summer Jam was its "Return to New York," moving from the Meadowlands to Elmont. What was left unsaid was the first Summer Jam took place in the then-Brendan Byrne arena in the same complex as Giants Stadium in New Jersey, and that only two Summer Jams in history had been hosted in New York before: at Long Island's Nassau Coliseum from 2001 to '02, after the Meadowlands had asked Summer Jam to take a two-year break following massive demand and unruly crowds the year prior. Also, Metlife, where the festival has been held for decades since, has a capacity of 50,000, while UBS Arena seats 20,000, a more reasonable and intimate setting for an event whose ticket sales lagged.
Taken as a whole, you don't have to stretch far to argue this relatively recent pivot to the station's roots was an act of pragmatism. The show's move to re-embrace its regional roots is logical, and a kind of retreat, an acknowledgement that it's no longer rap's center, but is more of what it's always ostensibly been: a showcase of local talent for a local radio station. It extended to this year's Summer Jam bill, which was almost exclusively New York products, who were nearly exclusively women.
Carrying tradition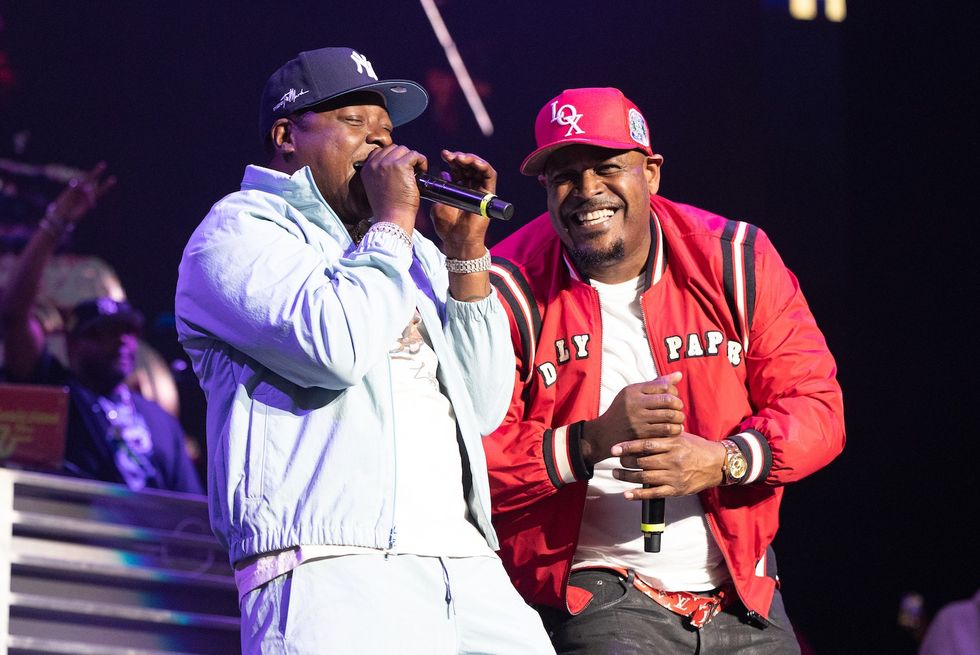 Photo Credit: Hot 97
Cynicism aside, what was striking on the floor that night was the effectiveness of the approach, a bond between artist, station, and crowd, the extremely pronounced and essential sense of place that ran through everything. If you love New York, it loves you back, and something that Summer Jam was able to maintain, throughout even its "dark" years of casting abroad for talent, was the desire by those interlopers, and the receptiveness of the audience, to lean into history and pay homage to the essential New York character of the event. Kendrick Lamar once brought out Papoose as his big headline surprise. DJ Khaled brought out Cam'ron. And Kanye West brought out his big brother and Summer Jam patron saint JAY-Z.
It's a concert with largely fresh acts in a different venue in a different state, but the tradition and weight of history persists. Just the brand of both the station and the event conjures the old ghosts and a lachrymose sentimentality. The Lox have been one of those acts trotted out as a New York passport in years past. As Sheek Louch explained to me, "You want to know what happens? Even if it's not our set, an artist that comes to New York for Summer Jam has to get in touch with us. Like, who can I bring up from New York? And automatically it's the Lox. So everybody has brought us out, every year."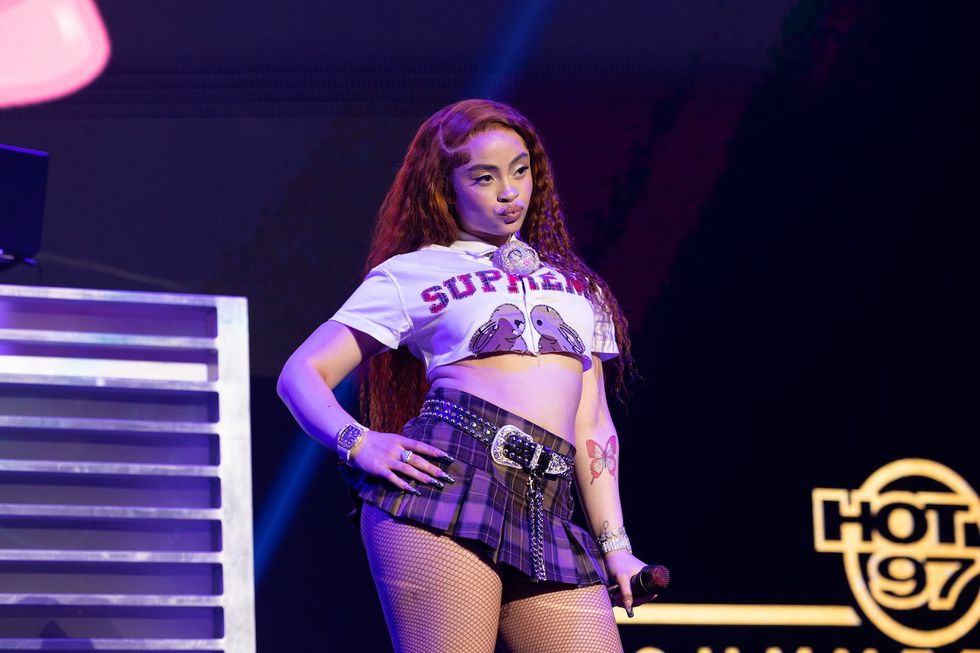 This year the Lox played the role of elder statesmen, on the bill representing the breadth and history of New York hip-hop, which they did by pulling out the God Rakim, and an encore from Scarlip, with their decades spanning catalog of hits sandwiching the past and present. The New York centric surprise cameos ran throughout the show. Lola Brooke brought out Harlemite Teyana Taylor and East New York's Maiya the Don. Ice Spice brought out fellow Bronx native Lil Tjay and River Park Towers' Kenzo B. French Montana brought out Castle Hill's Remy Ma.
The majority of the evening was very good but perfunctory radio festival sets: all kill and no fill before dutifully shuffling off. Coming into the show you could argue Ice Spice, the current hottest rapper in New York, and even America, who went from making a viral blowjob anthem to jumping on a track with Taylor Swift in under a year, should've been the headliner. But Spice's set was a self congratulatory mail in, essentially stripping and barely bothering to lip synch over her blaring vocals.
The Cardi B show
Cardi B quickly disabused me of my preconceived notions. I had been watching the event from a press pit on the stage, which had to be emptied out before her set because she needed to fill the area with massive fire cannons. It was indicative of a pyrotechnic performance that would've made as much sense onThe Blonde Ambition Tour, or The janet. Tour, or The Piece of Me Tour. Cardi had Michael Bay production value with a motif that suggested a Warhol-esque performance piece centered on toxic tabloid celebrity, less Pumps than X-rated Moulin Rouge. There were ten backup dancers who were on point with their choreo, and Cardi was rehearsed and hitting every spot. There's a dunk contest quality the Hot 97 mainstage has acquired over the years, never quite recovering from JAY-Z's game changer and delivering diminishing returns as other imposters keep chasing that high. But Cardi showed there was still life in the old dog.
As I watched Cardi — having transplanted myself from press row to the back of the arena floor to take in the full effect — I looked over the crowd and squinted at the kids getting their first glimpse of what a true superstar looks like. She's a young woman who grew up several miles or several blocks from where they did, turned international star, and finally, she's here in the flesh, in Long Island. It helped explain the biggest question for me entering this piece: How does Hot 97, and Summer Jam maintain its purchase over its audience in a new world, where its listenership has access to the entire history of recorded music in their pockets at all times? As 20,000 young New Yorkers had their brains scraped off the arena ceiling, Cardi reminded me of a Flex quote that stuck with me, speaking to the resilient staying power of the event, and Hot 97 itself, "All those platforms are great, but radio builds superstars."
Sheek says of his history with WQHT:
"Once Flex started breaking these records and blowing it up like 20 times in a row, it just changed our lives. Hot 97 has been incredible through our career, period. What turns you from an artist into a star with Hot 97, with the format now or back then, when you're streaming it and just blasting it to 100s of DJs, it's not as personal as the radio, as opposed to going up and having an interview with that DJ and talking, and letting the people get to know you and know what you're about and what you stand for."
There are a litany of reasons why terrestrial radio and Summer Jam still matters, but the theory I personally like to believe is it's one of the last remaining egalitarian conduits of culture. If you're reading this, you may have one or even several streaming apps on your phone that you manage obsessively, but not everyone does. There are over a million New Yorkers per week who still adhere to the ritual of jumping in the car, hitting the dial, and hanging out with some old friends. When the station anoints a star and puts them in heavy rotation, they are effectively weaving that artist into the fabric of their audience's lives. It's why, at least for one night, I thought of the station's longtime motto: "Where Hip Hop Lives", and as Cardi performed, it still applied.
The answer was best crystallized for me by TT Torrez. With all the change in music and culture, how does the station remain a generational force for minting stars in this city? After a beat, she replies, "It's local, and it's free."
From Your Site Articles
Related Articles Around the Web