Juwan Elcock, better known as BLK ODYSSY, was in a soberingly heavy headspace when he first started piecing together his newest album. The Austin, Texas-based artist found himself confronting deep-seated issues around love and lust, spurred on by acknowledging how his addiction to sex has often blurred the line between the two. Initially, he felt this would be too murky to cover in his music. But he wanted to make something that was honest and truthful, resulting in Diamonds & Freaks.
Broken up into four parts — "Dopamine & Hennessy," "Coochie & Big Booty," "The Divine Stank," and "Diamonds & Freaks" — Diamonds & Freaks is a letter to the artist's former self. The 15-track project is a candid recollection of the fast-paced life ODYSSY was living, juggling his first headlining tour while dealing with a rough breakup. Written and recorded alongside bandmate and guitarist Alejandro Rios in New York, Seattle, Portland, Mexico, and Texas, the album's sonics are grounded in R&B, funk and neo soul, with a handful of guest appearances — Bootsy Collins (who narrates the album), Griselda's Keisha Plum, The Alchemist, Rapsody, and Kirby — helping flesh it all out.
"I think for Alejandro and I, and all the other collaborators that we worked with, there was one thing about this BLK ODYSSY project that was very clear, and that was it wasn't about rules," ODYSSY said of the album's fusion of genres. "It wasn't about tradition, but it was about how it made you feel, how the sounds and the sonics made you feel, how the different elements of the song made you feel. And that's something that we always prioritize. So, there's a lot of real world feeling in these tracks that give it an immersiveness that, I think, is our signature sound."
https://www.youtube.com/watch?v=fpB20ZSReec
BLK ODYSSY, Bootsy Collins – HONEYSUCKLE NECKBONE (Official Video)

What makes Diamonds & Freaks different from ODYSSY's 2021 debut, BLK VINTAGE, is his ability to open up to his fans in a way he hadn't before. While VINTAGE focused on topics like police brutality and being a Black man in America, his recent full-length is a vulnerable glimpse into who he is as a man. Someone who yearns for a healthy love, but is also coping with his ego and his addictions.
"This album, there's so many layers to it. It's such a deep project internally for me," he said. "I think it's a deep project for men in general, but also for any listener, women included, it gives such a deep perspective to things that we learned growing up and how we latch onto addictions, how they are formalized and almost celebrated at some points. And the deep-rooted damage that it begins to do to us unconsciously."
Referring to Diamonds & Freaks as an erotic novel of love and lust, the exploration of these addictions is present throughout the album. On "Honeysuckle Neckbone," which features Bootsy Collins, ODYSSY enlists a rap cadence on the track, rapping: "OK, I know it's been a while girl since I called this phone / Leave a voice message then I leave you alone / But I ain't never been here so I feel like a rookie / Since we split I hit a couple but ain't like they pussy."
There's also "Judas & The Holy Mother Of Stank," an experimental, poetic track that speaks to how addictive love can be. Produced by The Alchemist and narrated by Keisha Plum and Bootsy Collins, the track is stacked with funk inclinations, with Plum speaking passionately on love and the euphoria it can incite: "This is what love feels like / Pillow talks / Silver walks / Comet trails / Purple rain / The love is deeply rooted / Zooted and booted."
https://www.youtube.com/watch?v=ObkGHmj0i6U
BLK ODYSSY, Eimaral Sol – PINK MARMALADE (Official Visualizer)

Overall, Diamonds & Freaks is an ode to the retro funk and soul ODYSSY grew up on, while showing his willingness to be an honest songwriter — no matter how weighty the subject matter might be. We recently caught up with ODYSSY and spoke about Diamonds & Freaks, rising in the Austin live music scene, working with Bootsy Collins and more.
The interview below has been edited and condensed for length and clarity.
What is it like being an R&B artist coming out of Austin, Texas?
BLK ODYSSY: One thing I always say about the Austin scene was, it was very good for Alejandro and I's live show. But being an Austin-based R&B artist, it doesn't really matter. It's sort of a non-existent thing because the scene there not only doesn't really have much of an industry when it comes to putting out music, promoting music, and the business end of it. But even more so for Black music in that space, there's not much there to amplify it on a fan base level, industry level, or any level at all.
So, obviously, us being there and being sort of isolated from the rest of the scene when it comes to R&B. We weren't out in New York, we weren't in Atlanta, or we weren't in LA. It created a mystique and mysteriousness about us not being anywhere at all. That, I think around the industry especially, was interesting for people.
Is Austin's music scene a good scene for Black artists?
I wouldn't say no, necessarily. You also have to realize that Austin, although we live there, we just live there. It's very much not one of our top listening or fan base cities for that fact. There's been a lot of benefits to living in Austin. The fact that the city is very friendly for musicians and prominently ran on musicians, makes it easy for us to live there. For instance, there are things like HAAM [Health Alliance for Austin Musicians] and [the] SIMS [Foundation]. There are programs in Austin that give musicians free healthcare. So, things like that made it amazing to live there. But on a musical level, we had to branch out.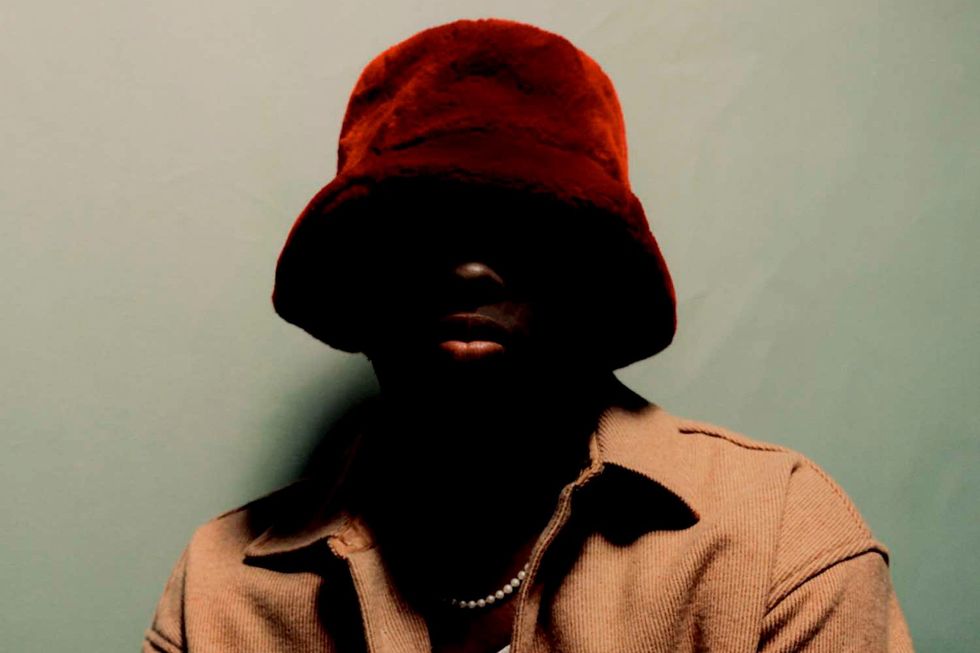 Photo by Jack McCain.
Are there specific challenges you faced as an R&B artist coming out of Austin?
The challenges that we faced [were] coming up with our own identity. We started as a rock band, but the only reason we did that really, was because we looked around and saw what was working out of Austin. [There] was Gary Clark Jr., the Black Pumas, and other rock acts and stuff in the Americana scene. We were pretty focused on just success in the beginning, and not overly intent about what we were saying and what we were doing. We thought, "All right, we could emulate that sound and do it as good as everybody else." So, that's what we did.
I think when the walls kind of came closing in during the pandemic, we were forced to be in a mirror with our own identity. And it begged the question, "Who are you guys? Who is BLK ODYSSY? What does BLK ODYSSY mean? What does it stand for and what impact does it make?" So, it was tough at first to get through that sort of identity crisis.
Photo by Jack McCain.
What can you tell me about the self-reflective lyrics that are heard throughout the album?
This album heavily focuses on sexual addictions, lusting, and the difference between love and lust, which to me was a whole personal journey. It was one of those things that I published [in a] letter [to my fans] a couple days ago, and the amount of outreach I got was super inspiring to me because it was like, "You know what? This is something that I've struggled with." It's something that's been on my chest heavily through this process of making this record, and being in and out of a relationship. Being a completely different person when I got into my first relationship, when I got out, having access to way more things, and trying to figure out how to navigate that space.
But my goal with this project, and my goal with that letter, was to put it out in the world so that people can understand these are things that we go through, and there's a community and a group of people out there that are understanding and listening.
How did you land on this fusion sound that mixes R&B with neo soul and hip-hop?
I think for Alejandro and I, and all the other collaborators that we worked with, there was one thing about the BLK ODYSSY project that was very clear and that was it wasn't about rules. It wasn't about tradition, but it was about how it made you feel, how the sounds and the sonics made you feel, how the different elements of the song made you feel. And that's something that we always prioritize. So there's a lot of real-world feeling in these tracks that give it an immersiveness that I think is our signature sound.
Can you tell me about working with the legendary Bootsy Collins who narrates the album?
Man, that was super exciting. There was one thing for sure between Alejandro and I that was a center point, and it's that we love funk [music]. We both already knew of Parliament-Funkadelic, Bootsy Collins, and that whole '70s psychedelic funk era. So, it just had always been a goal of ours to work with people in that world. Who better to narrate a psychedelic, surreal, visual, freaky album like Diamonds and Freaks than Bootsy Collins, who has this out-of-this-world, sort of unhinged, very intergalactic vibe to him?
I had worked with George Clinton before on my last record so I just messaged him. I was like, "George, man, I would really love to get with Bootsy." Then, I think he hit him and I didn't hear from Bootsy for maybe two months. [Eventually] he hit me. He was like, "Yo, love the music. Let's do this." Hit his management team and they were like, "All right, we're down to do this." And then we didn't hear from them for six months.
We got an email when we were literally wrapping the album up or very close to it, and it was his manager saying, "Hey, you guys still want to do this?" So, I was like, "Hell yeah." We got him to lay a bunch of parts. It was easy. We sent him the record and we said, "Hey, here's what we're thinking. Here's what your role is in the album and let us know whatever you feel like you would say to walk the listener through this record." And somehow it just came together.
Why did you want an Alchemist beat for this album?
For me, it was like, now the project is unconventional and it's unpredictable. You have this very soulful album. You got Corey Henry, you got all these people — then, out of nowhere, slams in an Alchemist beat, but not something that sounds like his discography. You have Keisha Plum speaking over it. You have Bootsy Collins speaking over it. It seems very outer space.
At this point, what we're most interested in doing is [not] being genre defined. Keisha Plum and Bootsy Collins can be over an Alchemist beat talking about sex in the most psychedelic way, and it could smack crazy and then they could do a beat switch up. You could be in a completely different world and it could be like, "Whoa, this is Alchemist production and this is in the middle of this erotic novel project." I want people to squint their eyes and lean their head when they're listening to the record.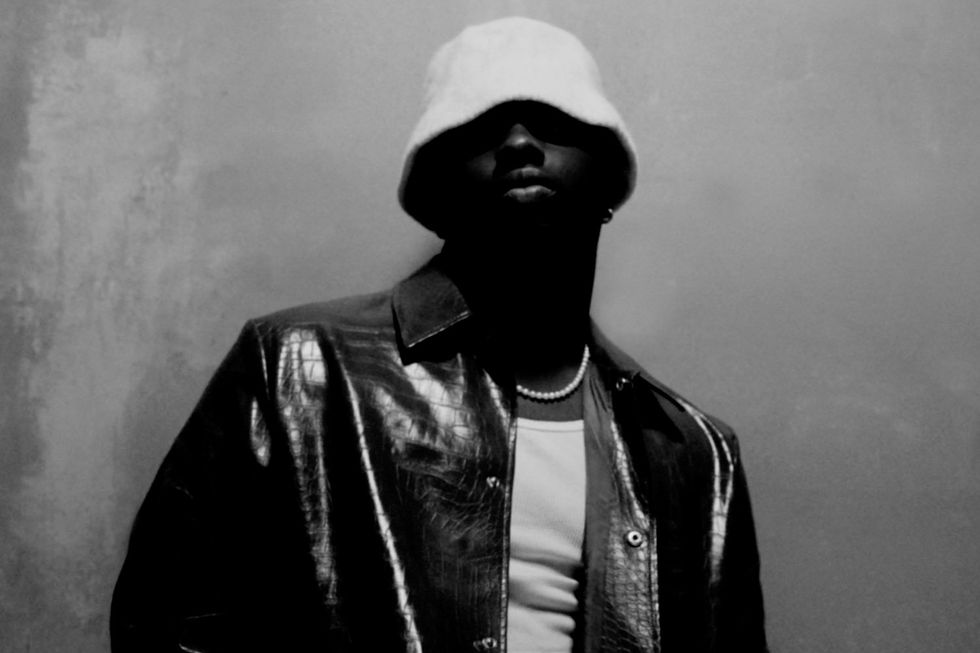 Photo by Jack McCain.
Do you have a favorite Alchemist beat?
"What a Real Mobb Do." We play that joint live sometimes. We love taking those old hip-hop joints and just mashing them around.
What thoughts do you have on your tracklist being turned into a meme?
I was happy about that because it was like, "Oh, this is the perfect thing." You couldn't have asked for more unconventional marketing for this album. I saw niggas saying shit like, "I know Kevin Gates had something to do with it." I thought that was funny. There were some funny people. Twitter is the funniest place in the world, I'm telling you. But I knew it was going to do that because to the naked eye, you look at that and you're like, "What? This is a freaky ass album and this is about to be crazy." But I love that because I want people to listen to it and then be shocked when they come out of [the listening experience].
Do you feel like this album was a healing journey or was it a pit stop for you to be honest about where you're at emotionally?
Definitely both. Definitely a healing journey because it takes a lot of different layers and a lot of different things to heal. The first thing is accepting it, especially when it comes to addiction. It's accepting and realizing it, addressing it, and learning how to draw back on old habits. So, it was definitely a healing journey, but a pit stop — healing is not only to heal yourself, but once you get the recipe it's to do it on the masses. That's why we're so blessed to have this platform because of the amount of outreach that I got and saying, "Damn this might be something I struggle with. I don't know if this is a real world issue." But the moment the record was released, I was quickly corrected on that.
From Your Site Articles
Related Articles Around the Web