Last Thursday, fans flocked to the Billionaire Boys Club store on Mercer Street for the 20th-anniversary club talk between the influential players behind BBC's creation.
Created in 2003 by Pharrell Williams, then manager Rob Walker, and BAPE founder Nigo, Billionaire Boys Club was designed to be a more affordable option to Bathing Ape. The clothing brand was also a vehicle for Pharrell to exhibit his love for art, hip-hop, pop culture, and Japanese culture. Over the last two years, the fusion of Japanese and American streetwear through BBC has inspired generations of fashion and culture lovers such as Tyler, the Creator and Lil Uzi Vert, many of whom have borrowed from the iconic era of Skateboard P, Nigo, and the Star Trak reign.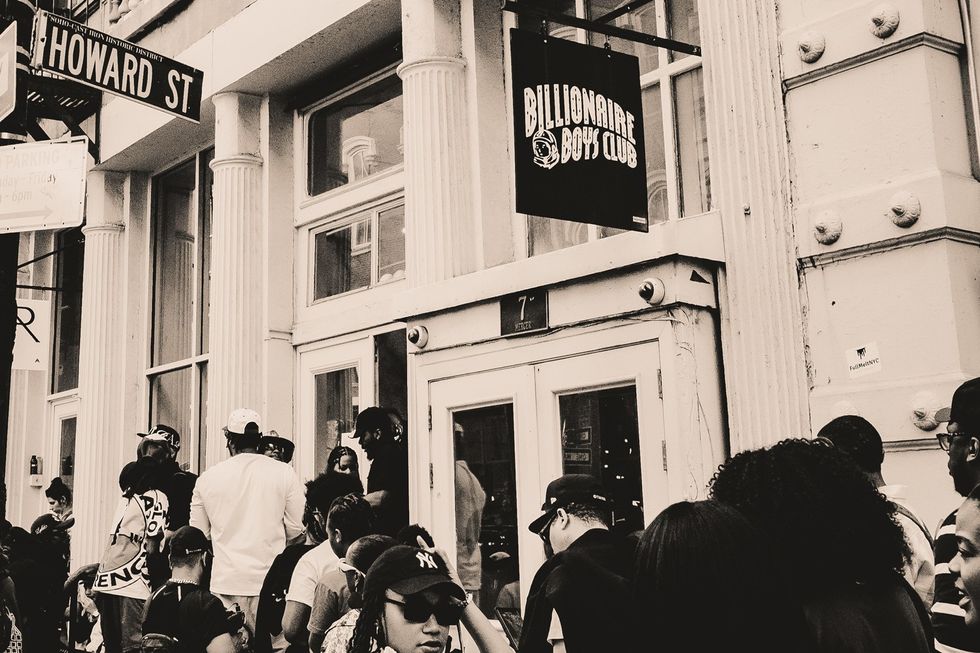 Billionaire Boys Club on Mercer Street in New York City.Photo by Dervon Dixon.
The BBC20 anniversary — which kicked off in NYC — includes a pop-up in Paris during fashion week where Pharrell will debut his first Louis Vuitton mens' collection and BBC anniversary events in Hong Kong and Tokyo. Within the signature NYC flagship, fans dripped in vintage BAPE sneakers and BBC shirts lined the walls leading to the backroom area, where a colorful vintage TV set played the entire "Frontin'" video on repeat while Pharrell's Heavyweight OG Logo tee from the video hung above the set. It's the "Frontin'" video, released on June 3rd, 2003, that helped launch the brand into the minds of millennial and Gen Z kids; a soft launch of a product that would help define an era that became immortalized through homage in art, music, and fashion.
"I think BBC has been a muse for this generation," Walker told Okayplayer. "BBC has been able to inspire everyone to have their own because that's what it was about; having your own identity." Walker also said that he, Pharrell and the rest of the team behind BBC and specifically the Star Trak movement lived in a bubble for a while and couldn't see the impact of their ideas.. However, for Vashtie, the downtown kid whose pre-Tumblr aesthetic became closely associated with BBC during her relationship with Pharrell (the two dated for two years in the mid 2000s), the influence of Billionaire Boys Club and sneaker culture was a moment waiting to happen. "I wouldn't consider myself a part of the collective," I was lucky to be a bystander to see the brand be born and grow," Vashtie said. "Coming from a time where our [sneaker/streetwear] community was so small and to see how it's evolved or grown, it's surreal."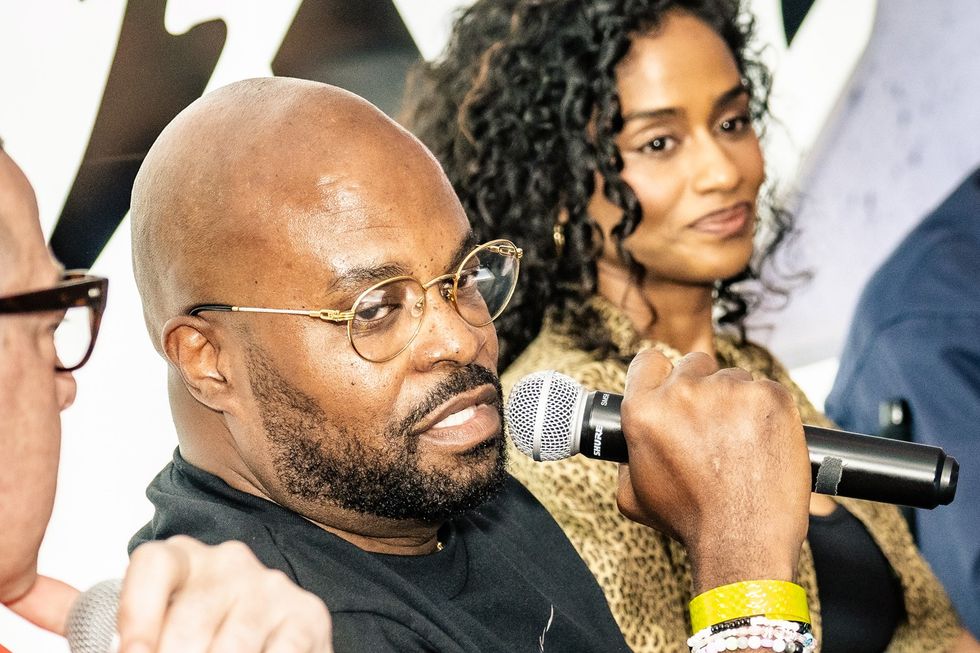 Rob Walker speaks at Billionaire Boys Club on Mercer Street in New York City, June 1, 2023. Photo by Dervon Dixon.
During the event, fans and creatives alike celebrated the release of the video by reposting the iconic photo stills and clips of what is arguably The Neptunes' best musical bridge and P and JAY-Z's best collaboration. Neptunes superfan Tyler, the Creator took to social media later that day where, in a heartfelt post, he wrote about still "subconsciously chasing that high" of the first time he saw the Paul Hunter-directed video.
While, early this year we spoke to Lanisha Cole, the lead video model in the video, about her immortal cameo. Echoing Walker and Vashtie on the influence of BBC and the legacy of "Frontin'," "There's something about that video that just resonated with a lot of women. Especially a lot of dark-skin women. Because even 20 years later, I'm still getting messages from women saying that you made me feel seen."
Fans can purchase the OG Logo BBC shirt as part of the BBC20 Anniversary Program Collection on the Billionaire Boys Club website. On the site, you'll find other items included in their special and limited edition collection for purchase. The OG BBC traveling showcase from Pharrell's personal archive will be on display at the BBC Ice Cream NYC flagship until June 10th.
–
Kia Turner is a freelance journalist and music historian from Newark, New Jersey. Managing her album-based series Deconstructing or talking about Pussy Rap, you can find the Hoodaville princess at @ChasingKia on all platforms.
Billionaire Boys Club on Mercer Street in New York City, June 1, 2023.Photo by Dervon Dixon?
From Your Site Articles
Related Articles Around the Web