Things keep looking brighter and brighter for Zulu. In March, the Los Angeles band released their first full-length album, A New Tomorrow. It looks joyful. Utopian. The cover features Black folks in colorful textiles dancing under sunshine and trees. If they get tired, a picnic is waiting to nourish them. On the band's earlier records, darker city scenes show police lurking around every corner. Zulu founder Anaiah Lei tells Okayplayer, "While our past material was a more direct approach and very in your face about the treatment of Black individuals around the world, I wanted to step away and express the love and beauty of us."
You'll find Zulu — who consists of vocalist Lei; guitarists Braxton Marcellous and Dez Yusuf; bassist Satchel Brown; and drummer Christine Cadette — on Instagram @blackpowerviolence, but don't overthink their handle. Yes, they're here for Black power. No, they don't fit perfectly into the powerviolence subset of hardcore punk. The word "powerviolence" should give you an idea of what the genre sounds like. Songs have heavy guitar riffs and rarely last longer than two minutes. Aggressive blast beats abruptly switch to slower, sludgy grooves. The guttural vocals sound like they're coming from somewhere deeper than the guts.
Zulu sounds like that and. And the lull of violin strings and piano keys. And a rap verse from Yusuf. And a Curtis Mayfield sample.And a poem that Alesia Miller wrote for the record. And smooth snippets of jazz, funk, reggae, dancehall, and basically every other type of Black music. Opera is not off the table for future releases. "Some people wouldn't consider us a powerviolence band. And truth be told, I don't know if we are," Lei said during a Zoom conversation. He's visiting family abroad. Brown is holding it down in LA, where most of the band are originally from. Lately, though, they've been all over — on a bill with Denzel Curry, Death Grips, and Earl Sweatshirt in England, and with Blink-182, Paramore, and Japanese Breakfast in Atlantic City.
This band has ambition, ability, and most importantly, restraint. True to their powerviolence roots, Zulu keeps it short and surprisingly sweet as they spread their uplifting message. Of their irresistible live performances."Whoever comes into it, from whatever space, they can't deny the energy and the power that comes with it," Lei said.
For June's First Look Friday, we spoke to Lei and Brown from Zulu about creating a positive community worldwide; teaming up with Eric Andre to pay tribute to A Tribe Called Quest; and organizing a hardcore festival for Black bands where everyone's welcome to come let it all out.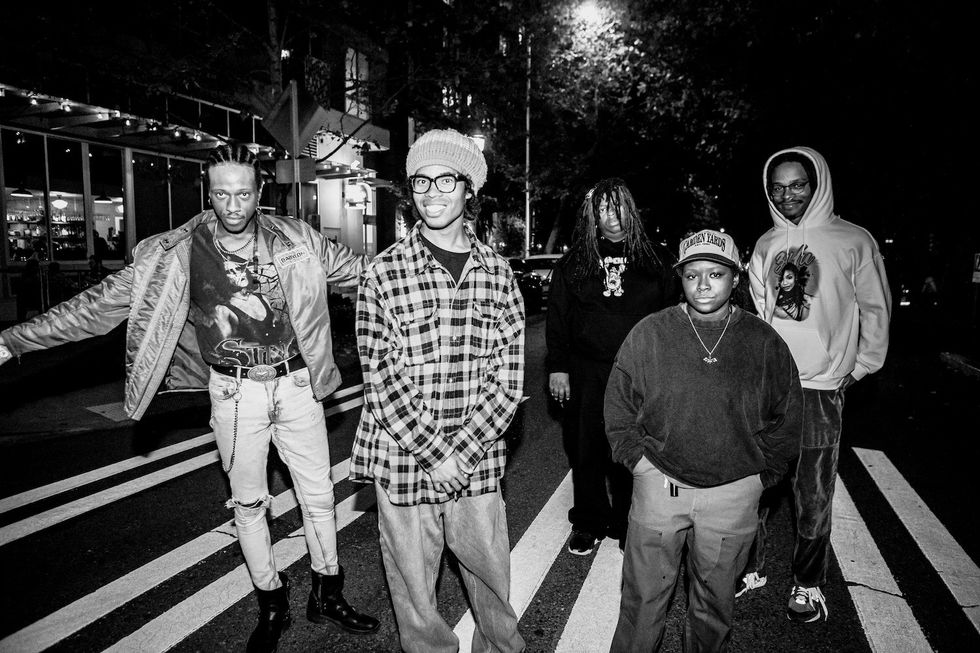 Photo by Chrisy Salinas.
The interview below with Anaih Lei and Satchel Brown of Zulu has been edited and condensed for clarity and length.
How do you approach mixing genres and sampling?
Anaiah Lei: The newer stuff — we made that. The interludes, yes, those are samples. Aside from the obvious ones, like Curtis Mayfield, everything else was made for the record [by us and our friends]. The influences come from hardcore, but the influences also come from these other genres from our [Black] history. So why not make that style visible?
In your video for "Where I'm From" [featuring Pierce Jordan of the band Soul Glo and Obioma Ugonna of the band Playytime] a bunch of Black and brown hardcore folks are paying homage to A Tribe Called Quest's video for "Scenario." How did that come together?
Most of the footage was from a tour that we were on with those other bands called Darkside of Da Moon. We're all hip-hop fans. I think Dez had mentioned [trying to recreate the "Scenario" video] to me. That song had all their friends and it really displayed unification at its best. And that's what we're trying to do now.
https://www.youtube.com/watch?v=evaTG-Pco2cZulu – Where I'm From (Official Music Video)www.youtube.com
Eric Andre's there too. How'd you get connected?
He's tapped in musically, so he hit me up just randomly, talking about being a fan of the band, which is awesome. I was talking to him one day when we were getting [the video] together. We'd filmed all the tour footage and we were slowly getting individual shots back home. I asked him, "Hey, would you be down to be in the video?" It was really simple. Me and Dez showed up to his house, filmed the clips of him, and bounced.
What else would be a dream come true for Zulu?
Playing in the motherland is something I think we all share. That's gonna happen. It might not happen now but it's gonna happen at some point.
It would be crazy to have the recognition of or tour with the likes of artists like SZA. It doesn't even make sense, I guess you could say, sonically. But if we can get to a point where we're unifying our folks to get hip to — if they weren't already hip to — this style that we play. Punk rock music has existed for a long time, but being able to cross those borders…
Satchel Brown: There's people who come to our shows, especially folks, and they never even heard this stuff before. They don't even know what the heck it is. Then when they hear it, they're like, "Wow I can express myself this way and it's cool and like there's other niggas doing it with us." The most important part is that it gets spread out even farther. There's probably so many more niggas that really need it.
Anaiah Lei: People want to limit punk rock and hardcore, but this is a bigger thing that we're trying to do. Apart from a tour I want to do, apart from artists I want to collaborate with, I want to see our people connected. I want to see our people unified, truly, wholeheartedly. Showing people not only can they do what we're doing and be a part of what we're doing, but that the style that we do is a part of our history, and their history too. It's happening slowly, but surely.
Was being able to enjoy heavier music always easy for you, or was it an acquired taste? Do you think everyone can ease their way into it?
I grew up with it; it was just there from the jump. There is sometimes the, "either you get it, or you don't" but it's not Black and white. I know plenty of people that have heard it and been like, "I didn't really know how I felt about it at first, and it took a while to come around, but now I love it."
Satchel Brown: For me, it did kind of click. I think that knowing a lot of musicians helped. But with just living in America in general like there's a vibe, a feeling — to me — of being unsatisfied. Sometimes I feel like it's universal. When I take people who have never been to those shows, it's kind of jarring [for them]. But I think they do understand where it comes from. They do understand this feeling of dissatisfaction that I think is in a lot of people who live here. Where can you put that energy? I think that place [that allows you to enjoy heavy music] is a good place to put it. I think nowadays more people are more open to it.
When I was younger though, it was a little bit different. There was a lot more white people in the scene, especially when we were younger. It made it kind of hard to even understand, "Where is my space in this? How can I even be here?" I think people like me and Anaiah who've been there help with showing that everyone's here. This is a moment right now, in general, where a lot of people are on edge. They need that sound that can represent that and help them express it.
You get crazy energy from the audience when you perform. How do your positive message and this violent, physical aggression coexist?
Anaiah Lei: It's always been like that [at hardcore and punk shows]. I guess people will see it from the outside, like, "This is wild, why would people do this and act that way?" Most people end up accepting it. They're just like, "Oh, so, it's OK to do that in that space?" Yeah, that's OK as long as you respect other people. It's alright to let it out that way.
Satchel Brown: [Anaiah,] you were talking to me about that Onyx performance [when Sticky Fingaz shot up the 1994 Source Awards]. Fools was chewing up the club and people could perceive [that energy] as aggressive. I think it's just more like, here's a place where you can express however you feel about what we're about to play for you. If you're in the club and you're feeling yourself and you wanna shoot up, or [if you're in the mosh pit and] you wanna kick someone in the face, it should be OK. Yeah it's violent and like yeah maybe someone gets hurt, but it's kind of bigger than that. Like it's now or never. Either take that moment or you don't. I feel like people are trying to just take that moment and ride with it.
Anaiah Lei: I mean it sounds wild to say that, especially if you just didn't understand the context. But artists that would shoot up the club, shoot up their venues, that's some Caribbean-style, gun salute type stuff. That is a part of Black culture. Some of us in the band are Caribbean. So there's that dance hall style where people do that to show their appreciation. And in the hardcore scene, your appreciation to the music is jumping off the stage and slamming — getting kicked in the face.
Satchel Brown: When we meet people [at our shows] who aren't just hardcore kids, they're not just there for the music. They want to be a part of an energy where they can just express freely. I think that's why people really do it: so they can really be out there and not feel like they're gonna be judged. It's almost boring when it's just the people who go to these shows all the time because they know the situation. Sometimes they don't even be wildin', they don't even be freaking out. It's usually the people who are new and like, "Wow." I feel like that's what it's for.
On "Where I'm From," you sing, "You wouldn't be here if it wasn't for us." Does the meaning of that "you" and that "us" change when you're performing for an audience that isn't all Black?
Anaiah Lei: Sometimes I talk about us, sometimes I talk to us, and sometimes I talk to other people that aren't us. It's just, song by song, whatever I decided to write about.
Satchel Brown: When we're there [live] that's when the lyrics are more purposeful. I think it's more hard-hitting. I think that's why people kind of go crazy when we play these songs. It's like a prideful chant to me, it's a calling. For the people who hear it and get it, they'll feel it and they'll do what they need to do to it. And the people that don't will just sit in the back and be whatever. The message, and the music, comes across even more during the live shows, whether or not there's a white person there.
Anaiah Lei: It's basically more impactful live despite who's hearing it, because you could take—hopefully—some knowledge from that, no matter whether you're folks or not. You're gonna take something from it regardless. So many lyrics may be specifically for someone, but it's a universal message at the end of the day. That's what we want is to open people's minds.
__
Mariah Stovall has written for the Los Angeles Review of Books, Hanif Abdurraqib's 68to05, The Paris Review, and the anthology Black Punk Now. Her first novel, 'I Love You So Much It's Killing Us Both,' is forthcoming from Soft Skull Press.
From Your Site Articles
Related Articles Around the Web